Laemmle Theatres and the Anniversary Classics Series present a 55th anniversary screening of the cult classic What Ever Happened to Baby Jane? (1962), starring Bette Davis and Joan Crawford, on March 11 at 7:30 PM at the Ahrya Fine Arts theater in Beverly Hills. Click here for tickets.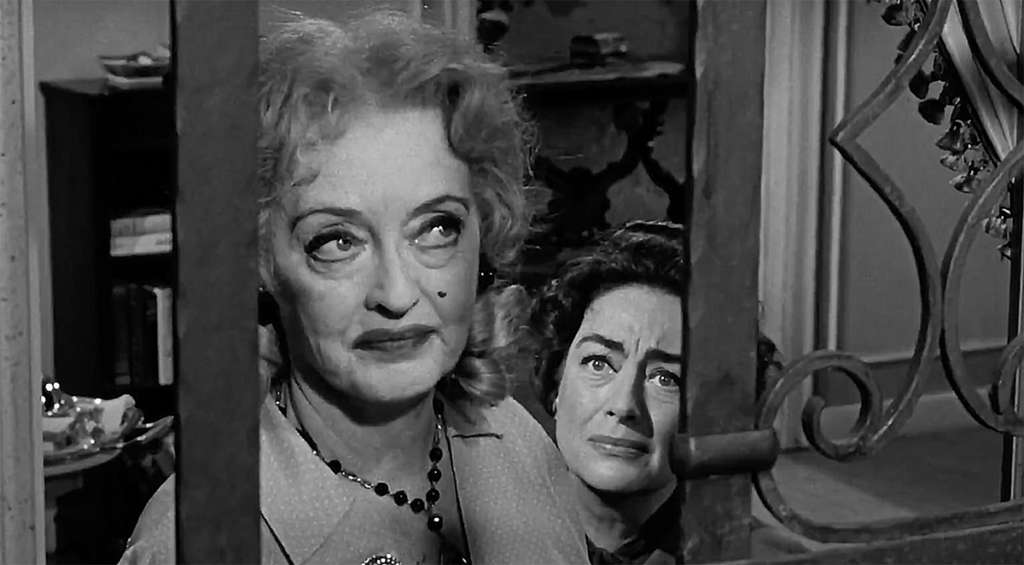 The new FX miniseries "Feud," about the rivalry between Davis and Crawford while shooting the movie, will begin airing on March 5. This special anniversary screening will coincide with all the attention that juicy miniseries will surely receive. And there are undeniable parallels between Hollywood in 1962 and 2017. Feud's lead actresses, Susan Sarandon and Jessica Lange, probably face some of the same prejudice against aging actresses that plagued Davis and Crawford 55 years ago.
Baby Jane, a surprise box office smash, was nominated for 5 Academy Awards, including Bette Davis as Best Actress. It won the Oscar for black-and white costume design, and among its other nominations were newcomer Victor Buono (supporting actor) in his screen debut, and veteran cinematographer Ernest Haller (Oscar winner for Gone With the Wind).
Baby Jane is now regarded notoriously as a "camp classic," and for teaming Hollywood legends Davis and Crawford who were at low points in their movie careers in 1962. There were very few good roles for aging actresses in that era, and studio disinterest forced the faded movie queens to seek unorthodox parts. The Henry Farrell novel about the psychological rivalry between two reclusive sisters, former actresses holed up in Hollywood obscurity seemed tailor-made.
Producer-Director Robert Aldrich hired Lukas Heller to write the screenplay, and the expert mix of black comedy and suspense, along with powerful acting by the cast, made the film a worldwide success. It revived the careers of both Davis and Crawford, restoring their places in the Hollywood pantheon, and spawned a genre of Grand Dame Guignol that gave other older actresses roles for the next decade.
Part of the appeal of the film was the alleged off-screen rivalry between Davis and Crawford, and that feud sparked great interest by both the stars' fans and the press.
Show, the 60s magazine of the arts, salivated at the prospect: "For fans who are getting on, there is one certain treat in store. Bette Davis and Joan Crawford will be together in What Ever Happened to Baby Jane?, a melodrama about the murderous rivalry between two sisters, onetime film stars. Or is it perhaps Joan Crawford and Bette Davis?"
Among divided critical reception at the time, the Chicago Daily News saw "…the outlines of a modern Greek tragedy. Yet it is great fun, too, because this is pure cinema drama set in a real house of horrors."
Whether seen as a "campy thriller" or a well-crafted domestic film noir, the movie's appeal has lasted to this day. The FX series "Feud" testifies to its impact.
We will screen What Ever Happened to Baby Jane? with a trivia contest and special introduction on the movie's backstory and enduring legacy. Shows Saturday March 11 (7:30 PM) at the Ahrya Fine Arts in Beverly Hills. Click here for tickets.
For more about our Anniversary Classics Series, including an upcoming screening of IN COLD BLOOD, visit www.laemmle.com/ac and join our Facebook Group.