The historic win for PARASITE as the first "International Feature Film" (formerly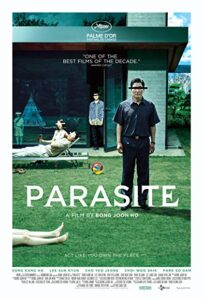 Foreign-Language Film) to take the AMPAS Best Picture prize only reinforces the notion that it was both a long time coming….and long overdue. To put the award in perspective, there have been only twelve non-English language films nominated in the Best Picture category in the 92 year history of the Oscars: GRAND ILLUSION (1938), Z (1969)*, THE EMIGRANTS (1972), CRIES AND WHISPERS (1973), THE POSTMAN (IL POSTINO, 1995), LIFE IS BEAUTIFUL (1998)*, CROUCHING TIGER, HIDDEN DRAGON (2000)*, BABEL (2006), AMOUR (2012)*, LETTERS FROM IOWA JIMA (2016), ROMA (2018)*, and PARASITE*. Six of those films have also won the foreign-language award,* a category renamed "International" this year, as if there was any real difference.
Basically, the long history of the awards and filmmaking in Hollywood has been infused with international influences, starting with all the emigres to Hollywood in the 1920s and 1930s, both behind and in front of the camera, and continuing to this day. But Academy recognition in the top categories of acting, writing, and directing for foreign-language films was non-existent until the post-WWII era, when the writers branch, starting in 1945 with the long forgotten MARIE-LOUISE, began acknowledging foreign-language screenplays. That film actually won the Oscar, a feat not duplicated for feature films until DIVORCE ITALIAN STYLE in 1962, during the golden age of the art house.
In the intervening seventeen years between those two features, such art-house classics as CHILDREN OF PARADISE, SHOESHINE*, THE BICYCLE THIEF*, LA STRADA*, THE 400 BLOWS, WILD STRAWBERRIES, and HIROSHIMA, MON AMOUR got nods for their screenplays, to name a few. Additionally, winners in the foreign-language field included such cinema treasures as RASHOMON, FORBIDDEN GAMES, THE SEVEN SAMURAI, THE NIGHTS OF CABIRIA, BLACK ORPHEUS, THE VIRGIN SPRING. and THROUGH A GLASS DARKLY. In 1961, Federico Fellini broke through into the directing ranks with a nomination for LA DOLCE VITA, the first for a foreign-language film; that same year Best Actress Sophia Loren was Oscar's first acting winner in a foreign language. In '62 Pietro Germi added a directing nod to his Oscar-winning screenplay for DIVORCE ITALIAN STYLE, and the film's star, Marcello Mastroianni, was a Best Actor nominee, also a first.
More recognition for foreign-language films in the top categories followed throughout the remaining decades of the twentieth century, but ebbed and flowed with the vicissitudes of popularity of foreign films. The fact that such masters as Kurosawa, Bergman, Fellini, and Truffaut never won for directing, let alone a Best Picture trophy, is telling with the multiple triumphs of Bong Joon Ho this year.
Multiple Oscar wins and huge commercial success for LIFE IS BEAUTIFUL in 1998 and CROUCHING TIGER, HIDDEN DRAGON in 200o seemed to presage a new era of acceptance for foreign-language films and their subtitles, which Bong Joon Ho wryly referred to as "the one-inch barrier" during the campaign for PARASITE. But that wide level of acceptance for subtitled cinema enjoyed twenty years ago quickly evaporated, and interest in attending foreign-language films in movie theaters has been declining ever since.
So what is the future of foreign-langauge films? Is it indeed the dawn of a new era, with wider appreciation of international stories and acceptance of subtitles for films readily available on all the new viewing platforms (i.e. other-than-movie-theaters), as some are now suggesting? Or is the elevation of a subtitled film like PARASITE to the rarefied ranks of Best Picture winners merely a moment in time, to be justly celebrated as a milestone, and then destined to recede into history, without leaving a lasting footprint? For the sake of the moviegoing experience, let's hope for a fadein and not a fadeout.