Vitagraph Films 360 presents "Cinema '62 A-Go-Go" a virtual multi-media extravaganza for film-lovers – based on the book Cinema '62: The Greatest Year at the Movies. This unique virtual experience features special guests, film talk, musical performances, cocktails, a cascade of memories… and YES, there will be dancing!
"Cinema '62 A-Go-Go" is more than a book talk, more than a Q&A, more than an interview. In a variety show format, it re-examines the year in film and everything in between as we delve into the cultural context of when these films were made – with special guests, cocktails of the era, major amounts of music, prophetic politics and even a little dancing.
Baby Boomers will reminisce and every other generation will be enthralled by how this year resonates today with some of the most prescient – and in some cases, woke motion pictures ever made! Our itinerary involves surprising secrets from behind the screen, songs the American public pushed up the pop charts and so much more!
Arrive via Zoom at this film conversation-meets-cocktail party-meets-variety show, dressed in your 1962 best (the audience WILL see each other at various points in the show), to enjoy this virtual gathering. Hosts/authors Michael McClellan and Stephen Farber will treat the audience to film history surrounding select 1962 films, combined with musical interludes, such as a tribute to Henry Mancini (Time Magazine's "hottest music man in Hollywood") and an opportunity to learn the early 1960s dance sensation, "The Twist." There will also be interviews with Pop Culture experts, a look at Cold War politics and how they still resonate today, a vintage cocktail demonstration and much more!
Including Appearances by:
Charles Phoenix, Ambassador of Americana
Directors Philip Kaufman (The Right Stuff, Invasion of the Body Snatchers), Nicholas Meyer (Time after Time, Star Trek II: The Wrath of Khan), Penelope Spheeris (The Decline of Western Civilization, Wayne's World)
Academy Award-winner writer-director Bill Condon (Gods and Monsters, Chicago, Beauty and the Beast)
Academy Award-winner producer Terry Sanders (War Hunt, Maya Lin)
Film Critic/ Historian Leonard Maltin
Singer Mary Stanford
1960s music expert and author Domenic Priore
Singer Al Martino's daughter, Alison Martino
Author/film historian Jeremy Arnold (TCM: The Essentials, Lawrence of Arabia: The 50th Anniversary)
Author Tom Santopietro (Considering Doris Day, Why To Kill a Mockingbird Matters)
Special Conversation with Entertainment Icon Barbara Eden (I Dream of Jeannie)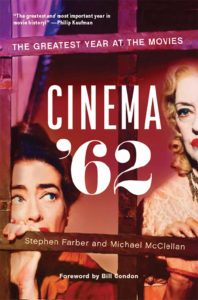 Date: Saturday, October 10, 2020
Time: 3:00 PM PT / 6:00 PM ET
Tickets: $13 (per viewing device. This usually means one ticket per household)
Program Duration: 100 minutes (including Q&A period)
Delivery Platform: Zoom
Book Sales: Online at Rutgers University Press. Use promo code (RCINEMA62) for a 30% off discount!
Join us for the Movies, Music, and Memories of a Fabulous Year – 1962
Use RCINEMA62 for a 30% book discount at Rutgers University Press!!!