We're celebrating Oscar season with screenings of two Academy Award powerhouses in our continuing Anniversary Classics Series.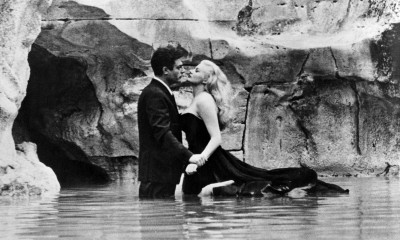 First, we offer a 55th anniversary screening of LA DOLCE VITA, one of the most influential of foreign films, and the recipient of 4 Academy Award nominations in 1961 – Best Director and Original Screenplay for Federico Fellini, Art Direction and Costume Design (an Oscar winner for Piero Gherardi). Fellini's sardonic take on the decadence of Rome in the 1960s reverberated throughout modern film history, and heavily influenced the 2013 Oscar foreign-language winner THE GREAT BEAUTY. So cruise along the Via Veneto with Marcello Mastroianni, then take a dip in the Trevi Fountain with the voluptuous Anita Ekberg, and see it all at the sleekly elegant, newly re-opened Monica Film Center!
LA DOLCE VITA will screen on Tuesday, February 16 at 7:30 PM at the Monica Film Center in Santa Monica. Tickets on sale now at laemmle.com/ac.

Next, we look back 50 years to celebrate one of the most provocative films in cinema history – WHO'S AFRAID OF VIRGINIA WOOLF? (1966). The film adaptation of playwright Edward Albee's scathing dissection of a marriage was brought to the screen with most of its graphic dialogue intact due to the relaxation of the censorious Production Code in its fading, final gasp. VIRGINIA WOOLF garnered a near-record 13 nominations including Best Picture and Best Director for tyro film director Mike Nichols, winning 5 Oscars including Elizabeth Taylor (Best Actress) and Sandy Dennis (Supporting Actress). The rest of the 4 character cast were also nominated: Richard Burton (Best Actor) and our special guest, George Segal (Supporting Actor) who will join us for a Q & A after the screening.
We are also presenting this screening as a tribute to the late Haskell Wexler who died late last year at the age of 93. Wexler won his first Oscar for filming VIRGINIA WOOLF in glorious black and white, an art form endangered by the mid-sixties.
WHO'S AFRAID OF VIRGINIA WOOLF? with special guest George Segal will screen on Tuesday, February 23 at 7:00 PM at the Royal Theater in West LA. Tickets are on sale now at laemmle.com/ac.
Join the conversation in our Anniversary Classics Facebook Group.