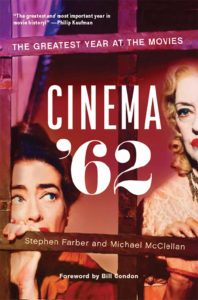 Among the thousands of books published each year, it is more than gratifying to be included among those considered the best in a particular field. The overall category, of course, is books about the movies, whether cinema history, film criticism, popular culture, or the performing arts. CINEMA '62: The Greatest Year at the Movies happens to cover all of the above in celebrating a landmark year in movie (and moviegoing) history: 1962. Consider all the great movie classics released to American audiences that year: Lawrence of Arabia, To Kill a Mockingbird, The Manchurian Candidate, The Man Who Shot Liberty Valance, Jules and Jim, Last Year at Marienbad, The Loneliness of the Long Distance Runner, Ride the High Country, Days of Wine and Roses, Cape Fear, Birdman of Alcatraz, The Longest Day, Divorce Italian Style, The Miracle Worker, The Music Man, Yojimbo, Through a Glass Darkly, What Ever Happened to Baby Jane? and so many more.
So it is with great pleasure to share the honors for our endeavor among other notable books published in 2020 (we are #8)—and looking ahead to "good reads" in 2021 (where we are #20):
What Were the 10 Best Books on Hollywood in 2020?
24 Best New Cinema Books to Read in 2021
Please explore this website for other favorable reviews and acknowledgements from Variety, the Associated Press, Shelf Awareness and more!
Get a copy of CINEMA '62 at a 30% discount with free shipping from our publisher! Just enter code RCINEMA62 at checkout when you click on the Rutgers University Press link in the Order at column to the right.