As ELVIS, the Baz Luhrman "razzle dazzle" biopic of Elvis Presley plays in movie theaters this summer, bringing the music and movie star back into the cultural conversation, we look back to a peak year in Elvis' career, 1962. Granted, Elvis' influence is best represented by his musical legacy, but in 1962, he was also a top ten draw at the nation's moviehouses.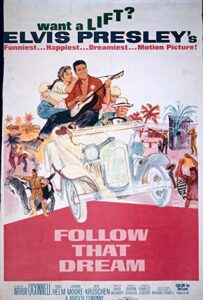 He first entered the exhibitors' top ten moneymaker's poll in 1958 at #4, then after a stint in the U.S. Army, he returned to hit making, both in the recording studio and Hollywood soundstages.
1962 was a particularly productive year for Elvis, with three movies (FOLLOW THAT DREAM, KID GALAHAD, GIRLS! GIRLS! GIRLS!) and six singles charting, four of which reached the top ten: CAN'T HELP FALLING IN LOVE (from the soundtrack of his late '61 release BLUE HAWAII), soared to #2 in February, with the soundtrack album sitting at the top of album charts for 20 weeks; GOOD LUCK CHARM topped the charts in April; SHE'S NOT YOU (a cover of the Patsy Cline country smash HE'S NOT YOU) reached #5 in September.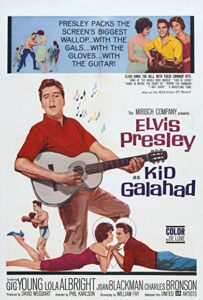 But his biggest pop hit of the year was RETUN TO SENDER, from the soundtrack of his November movie hit GIRLS! GIRLS! GIRLS!. It was the only one of his '62 pop hits to enter the top ten year-end chart, anchoring the hits of the year at #10, with the other three charting lower. It would also be the last time he would reach the top ten on a year-end chart. GIRLS! GIRLS GIRLS! also proved to be one of his last major hits of the Sixties, landing in the top 25 of the highest grossing films of 1962.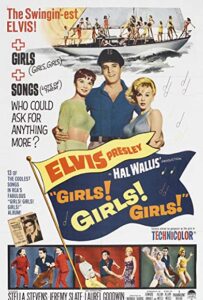 All three of his '62 movies followed a formula that would soon become well worn, with Elvis either pursuing or being pursued by  romance  in lightweight musical comedies of little substance and mostly forgettable songs with a few notable exceptions ("Can't Help Falling in Love," "Return to Sender", "Viva Las Vegas"). "Colonel" Tom Parker, his controlling manager, had allowed Elvis to break into the movies in 1956 in films of varying genres, from drama, melodrama, and westerns. But after returning from the Army, the musical comedy formula was honed into a machine that churned out another twenty films through the Sixties until his loyal, mostly female audience aged out and his films were no longer profitable. The decade also saw a decline in the quality of his musical output, and after '62 he had only 3 more top ten hits until his well-received comeback in 1969 when he once again topped the charts ("Suspicious Minds" #1).
Although none of his popular '62 studio films were critical favorites, they stand out for the heavyweight talent behind the cameras, with past and future Academy Award winners  (director Norman Taurog, writer Edward Anhalt, and  cinematographer Loyal Griggs all collaborating on GIRLS! GIRLS! GIRLS!).  Past and future Oscar winner Burnet Guffey, cinematographer of KID GALAHAD which he shot in color, would earn an Oscar nomination for his black-and white achievement on one of '62's best films, BIRDMAN OF ALCATRAZ. Charles Lederer, writer of FOLLOW THAT DREAM, was ending a distinguished Hollywood career, with THE FRONT PAGE, THE THING FROM ANOTHER WORLD, GENTLEMEN PREFER BLONDES, and OCEAN'S ELEVEN among his many credits. His penultimate credit would be one of 1962's Best Picture nominees, the remake of MUTINY ON THE BOUNTY.
Supported by the vast "baby boomer" youth audience who were the most frequent moviegoers in that era, Elvis rose to his highest moneymaker poll position of the Sixties in 1962 at #5. He would stay in the top ten until 1966, his last year to make the poll. Elvis made his last narrative film in 1969, and his movie output was limited to documentaries and concert films in the Seventies until his untimely death in 1977. The '62 films remain quintessential examples of Elvis at the peak of his movie career, another component of his considerable artistry.