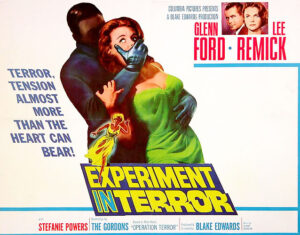 Laemmle Theatres and the Anniversary Classics Series present the 60th anniversary of director Blake Edwards' neo-noir suspense thriller EXPERIMENT IN TERROR, one of the noteworthy films from the milestone movie year 1962. Stefanie Powers, who has a key supporting role, and film historian and Film Noir Foundation director Alan K. Rode will appear for a Q&A after the film. The one-night-only screening will play at the Laemmle NoHo theater on Wednesday, December 7 at 7:00 PM.
The story deals with vicious criminal Red Garland (Ross Martin) who terrorizes San Francisco bank teller Kelly Sherwood (Lee Remick), forcing her to steal $100,00 from the bank for him. Although he threatens to kill her and her teenage sister Toby (Stefanie Powers) if she goes to the police, Remick contacts the local FBI office, where agent John Ripley (Glenn Ford) undertakes a manhunt for Garland. To ensure Kelly's full cooperation, Garland kidnaps Toby and a race against the clock ensues. Filmed on location in San Francisco, the film notably climaxes in the Bay City's mid-century landmark, Candlestick Park.
Blake Edwards, known primarily as a comedy specialist, followed the biggest hit of his early career, Breakfast at Tiffany's, with a complete change of pace in the taut suspenser adapted by the Gordons from their novel "Operation Terror." He took advantage of the genre change by utilizing a full range of stylistic flourishes, superbly assisted in exploring the neo-noir format by cinematographer Philip Lathrop, filming appropriately in sharp-edged black and white, and composer Henry Mancini contributing a striking, eclectic score. Edwards, Remick, Lathrop, and Mancini would all reunite later in the year for the memorable drama Days of Wine and Roses.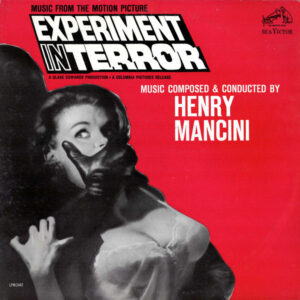 Critics of the day appreciated the investigative protocol, mystery elements, and the convincing, unsentimental acting and storytelling. Later reviewers embraced Edwards' directing approach, with Time Out stating, "Edwards' classical feel for pure cinema remains unalloyed." Emmanuel Levy noted, "this stylish noir thriller is one of Edwards' best films and one of the genre's highlights." The movie also greatly influenced filmmaker David Lynch, particularly his acclaimed Twin Peaks. Richard Brody, film critic of The New Yorker, wrote in 2015 that Experiment in Terror is "a movie about movies, a very early American reflection of the methods and moods of the French New Wave, realized as a mainstream Hollywood film…the exaltation of the ordinary into something extraordinary by means of the power of cinema itself."
Tickets and information at http://www.laemmle.com/ac