Laemmle Theatres and the Anniversary Classics Series present Jean-Luc Godard's cult favorite from 1965, the sci-fi neo-noir satire, Alphaville.  This screening is part of our popular Anniversary Classics Abroad program; this is our first tribute to the controversial but always provocative French auteur, one of the founders of the French New Wave and still something of an enfant terrible at the age of 89.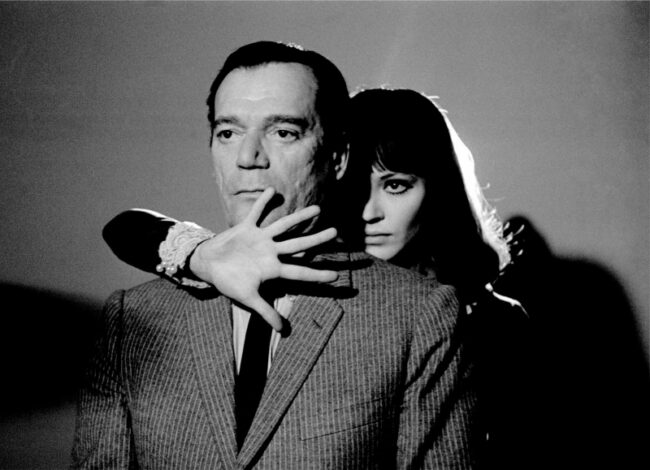 Our screening is dedicated to the memory of the incandescent star of the film, Anna Karina, who was married to Godard during the 60s and starred in many of his most popular and influential movies, including A Woman Is A Woman, Band of Outsiders, and Pierrot le Fou.
American-born Eddie Constantine plays the character of Lemmy Caution, a hard-boiled detective who had been featured in a series of European B-movies.  Godard borrowed the actor and the character for his vaguely futuristic portrayal of a mechanized society in thrall to a giant computer.
Working with the great cinematographer Raoul Coutard (who photographed many films of Godard and Francois Truffaut), Godard evoked a future world utilizing modernist glass and concrete buildings that already existed in Paris in the 1960s.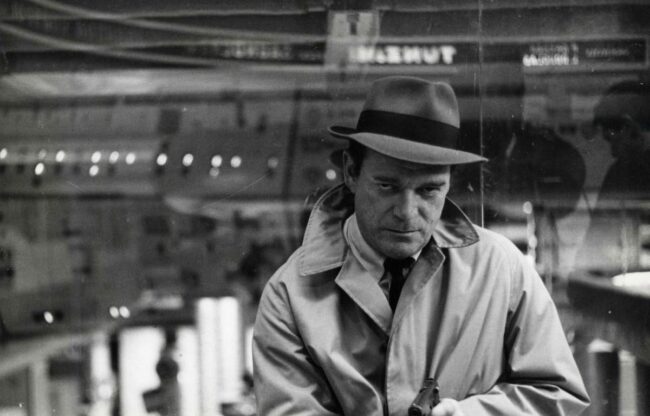 The film was compared by many critics to George Orwell's classic dystopian novel, 1984, with allusions to Orwell's Big Brother and misinformation campaign, Newspeak.  The dictatorial computer, Alpha 60, prefigured the sinister HAL in Stanley Kubrick's 2001: A Space Odyssey.  Other dark-tinged sci-fi movies like Blade Runner and The Terminator also demonstrated a debt to Alphaville.
In addition to Constantine and Karina, the cast included Howard Vernon and Akim Tamiroff, with cameo appearances by Christa Lang and Jean-Pierre Leaud, a key figure in the French New Wave.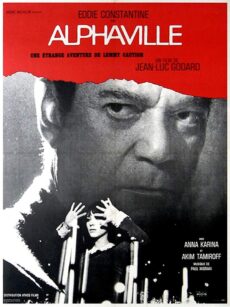 The film won the top prize, the Golden Bear, at the Berlin Film Festival.  Reviews were mixed at the time, with some critics bewildered and others praising the film's style and originality.  Over the years it has been recognized as a prophetic work in its protest of the growing dehumanization of modern life.  As the Boston Globe's Ty Burr wrote, "Alphaville moves closer to relevance with every passing year."  The New Yorker's Richard Brody called it "one of the great cinematic works of romanticism."  Time Out's Keith Uhlich added, "Karina proves to be the beating heart of the movie."
Our 55th anniversary presentation of ALPHAVILLE screens Wednesday, February 19 at 7pm in Glendale, Pasadena, and West L.A. Click here for tickets.
99 minutes * NR * DCP * 1965