Laemmle Theatres and the Anniversary Classics Series invite you to celebrate the publication of Stephen Farber and Michael McClellan's new book, Cinema '62: The Greatest Year at the Movies, with screenings of one of the most memorable movies from 1962, John Frankenheimer's The Manchurian Candidate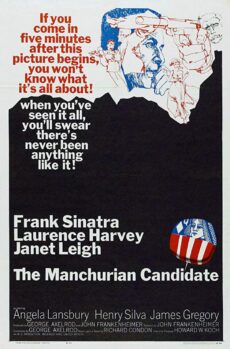 The Manchurian Candidate was a hit in 1962 and remains one of the most highly acclaimed of all political thrillers. In 1994 it was selected for the National Film Registry of the Library of Congress, an honor reserved for films of "historical, cultural, or aesthetic significance.
This story of a diabolical plot to engineer a Russian takeover of the White House was provocative in 1962 and seems frighteningly prescient and startlingly relevant in the aftermath of the 2016 election. As Frankenheimer said in a prophetic interview a few years before his death, "I think our society is brainwashed by television commercials, by advertising, by politicians, by a censored press… More and more I think that our society is becoming manipulated and controlled."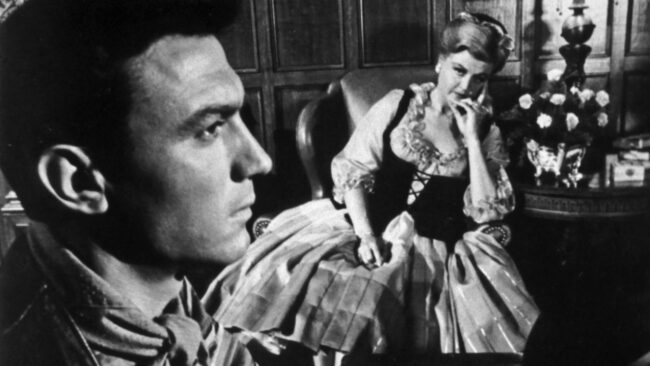 Adapted from Richard Condon's novel by screenwriter George Axelrod, who also wrote such movies as The Seven-Year Itch and Breakfast at Tiffany's, the film tells the chilling story of a soldier in the Korean War, played by Laurence Harvey, who is captured and brainwashed by Russian and Chinese Communists into becoming an assassin in the employ of the Soviet government. Frank Sinatra plays a fellow soldier trying to halt the assassination plot. Angela Lansbury was nominated for an Academy Award for her portrayal of Harvey's manipulative mother, who plays a crucial role in the conspiracy.
In addition to its achievements as a political thriller, the film was one of the first to satirize the anti-Communist hysteria that had gripped the country and divided the Hollywood community during the 1950s. James Gregory plays Lansbury's husband, a U.S. Senator modeled on Joseph McCarthy. As Frankenheimer told one reporter, "This country was just recovering from the McCarthy era and nothing had ever been filmed about it. I wanted to do a picture that showed how ludicrous the whole McCarthy Far Right syndrome was and how dangerous the Far Left syndrome is. It really dealt with the whole idea of fanaticism, the Far Right and the Far Left being exactly the same thing."
As a result of these controversial themes, the film was attacked by both right-wing and left-wing pundits at the time of its release. But the reviews were mainly positive. As Variety wrote, "Every once in a rare while a film comes along that works in all departments…Such is The Manchurian Candidate." The New York Times' Bosley Crowther had high praise for John Frankenheimer's direction, which he called "so exciting in the style of Orson Welles when he was making Citizen Kane."
When the film was re-released in 1987, reviews were even more ecstatic, and it has continued to resonate. Roger Ebert called it "a work as alive and smart as when it was first released." Pauline Kael said, "The picture plays some wonderful, crazy games about the Right and the Left; although it's a thriller, it may be the most sophisticated political satire ever made in Hollywood." Writing in TIME magazine in 2007, Richard Corliss said, "Lansbury and Harvey are both sensational in a movie that remains pointed and current. It still touches you like a clammy hand in the dark." Lansbury's portrayal of the malevolent Mrs. Iselin was ranked as one of the 25 greatest villains in film history by the American Film Institute. The supporting cast includes Janet Leigh, Henry Silva, Leslie Parrish, and Khigh Dhiegh. Ferris Webster earned an Oscar nomination for his superb editing of the movie's suspense sequences.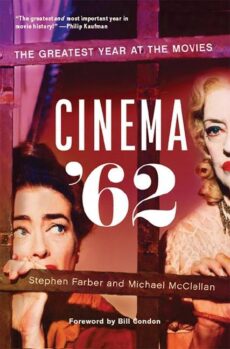 Cinema '62 provides fascinating anecdotes about this classic thriller and about many of the other masterpieces of this landmark year. Read all about them after you enjoy this innovative, frightening, wickedly funny, and ever-timely highlight from a year full of cinematic wonders.
Farber and McClellan are the co-producers of Laemmle's Anniversary Classics series. Stephen Farber has written film criticism for many prominent newspapers and magazines and has published four previous books on film. Michael McClellan is the former Senior Vice President/Head Film Buyer for Landmark Theatres.
NOTE: These screenings have been POSTPONED and will be re-scheduled when the Corona virus crisis passes. Please check back for updates.