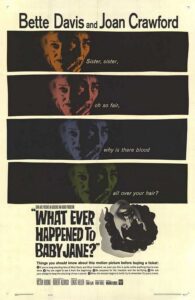 Official cultural recognition at long last for one of the most memorable movies of 1962, as What Ever Happened to Baby Jane? is finally inducted into the National Film Registry of the Library of Congress in their annual selection of 25 films. Alongside the Academy of Motion Picture Arts and Sciences, the NFR is the highest film honor bestowed. "Baby Jane" fulfills all the criteria of the NFR, films recognized for their "cultural, aesthetic, or historical importance to preserve the nation's film heritage." It is an acknowledgment long overdue, and justice has finally been done. There are now 825 American films so honored as of 2021, and 1962 has a total of nine notable films. What Ever Happened to Baby Jane? joins prior '62 inductees Lawrence of Arabia, To Kill a Mockingbird, The Manchurian Candidate, Ride the High Country, The Man Who Shot Liberty Valance, The Music Man, How the West Was Won, and Days of Wine and Roses.
Here is the official entry in the National Film Registry:
Despite a memorable, long-running feud, two of classic cinema's greatest grand dames united for the first, and only, time in this 1962 horror dark comedy which delves into the redundant worlds of fading film stardom and the macabre. Directed by Robert Aldrich, "Baby Jane" recounts the tattered lives of two now aged former stars: the dominating Baby Jane (played by Bette Davis) and her disabled sister Blanche (played by Joan Crawford) as they live out their lives in a decaying mansion, loathing one another as Jane torments Blanche. The film, even today, remains vivid and often uncomfortably terrifying. Along with showcasing two powerhouse actresses, "Baby Jane" ignited — for better or worse — the "psycho-biddy" subgenre: films featuring older female stars in similar, grand ghoul enterprises.
For a full account of this gripping psychological thriller, with behind-the-scenes stories about the making of the film and its enduring legacy, and all the landmark movies from 1962 in the National Film Registry, among many others that milestone year, see CINEMA '62: The Greatest Year at the Movies.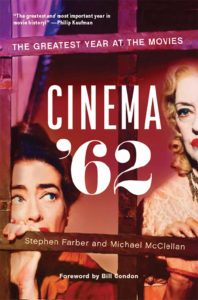 Get a copy of the acclaimed book at a special 30% discount directly from our publisher, Rutgers University Press. Use the code RCINEMA62 at checkout. Click on the link below.
https://www.rutgersuniversitypress.org/cinema-62/9781978808829