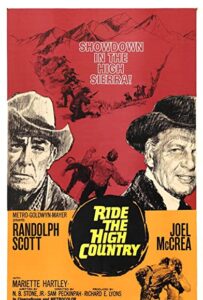 May 9, 1962
RIDE THE HIGH COUNTRY, an elegiac western directed by rising auteur Sam Peckinpah, opens on this date. The film's distributor, MGM, lost interest after a management change at the top of the studio, and dumped it on the bottom half of double bills in the major markets. This was a common  cost-cutting tactic employed by the studios then that relieved them of mounting an expensive advertising campaign.
Critics found the film, however, and extolled its virtues. Unfortunately, their enthusiasm  was not enough to make it  a box-office hit after the mishandling by the studio. Years later, after a sale to television, TV Guide summarized how perceptive critics felt in 1962 with its highest (5 star) review: "A much-loved revisionist Western, director Peckinpah's second feature film proved to be a bittersweet swan song for the Old West and a classy farewell to the screen for actors Scott and–for some years–McCrea."
Peckinpah would go on to make another revered oater, THE WILD BUNCH, at the end of the decade, and brought the skilled veteran cinematographer he employed on RIDE THE HIGH COUNTRY, Lucien Ballard, along for another ride. But Peckinpah  never made another film to match these two classics. In 1992, the Library of Congress inducted RIDE THE HIGH COUNTRY into its equivalent of a cinema hall of fame, the National Film Registry.