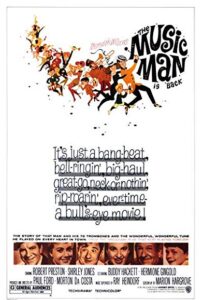 Can't think of a better time to commemorate the 60th anniversary of THE MUSIC MAN than on the 4th of July. The buoyant musical, set in the early twentieth century that celebrates small-town Americana, was a critical and commercial smash hit on Broadway in 1957, winning the Tony for Best Musical. The crowd-pleasing show was the biggest hit of the season, and ran for 1,375 performances. Jack L.Warner bought the film rights and wanted to cast the likes of Cary Grant or Frank Sinatra in the title role as a guarantee of box-office success. He needn't have worried.
The show's creator, Meredith Willson, insisted on casting the role of Harold Hill, the traveling salesman and con man extraordinaire who sets out to fleece the folks of the fictional River City, Iowa and is beguiled by then instead, with Robert Preston, the Hollywood refugee who originated the part in his musical debut. Preston delivered a vivid demonstration of show business bravura, and he was propelled to full stage and screen stardom. He is ably supported by Shirley Jones, future Oscar-winning director Ron Howard, Buddy Hackett, Paul Ford, Hermione Gingold, with Pert Kelton and the Buffalo Bills reprising their Broadway roles. It is such a faithful screen adaptation that it was added to the Library of Congress National Film Registry  for "historical, cultural, or aesthetic significance" in 2005.
Released in the summer of 1962 to capitalize on family business, the film was a mammoth hit, playing well into the autumn, winding up as the #5 top-grossing movie of the year. Film Daily ranked it #2 in its annual poll of the nation's top film critics, a rare meshing of popular and critical taste. At Oscar time, the film garnered seven nods, including Best Picture, winning for Ray Heindorf's adaptation of the Willson score. The memorable songs include Ya Got Trouble, the ballad Till There Was You (notably covered by the Beatles), and the rousing Seventy Six Trombones.
The show's appeal has lasted to this day, becoming a staple of regional theaters and high schools, and the movie is a perennial showing on Independence Day. In 2021 a well-received Broadway revival starring Hugh Jackman reminded everyone of the show's magnetism in the right hands. Some commentators had questioned the cultural relevance of reviving a show created in the middle of the 20th century in our troubled times, but the answer lies in the spirited show itself – timeless and needed more than ever.