We close out 2021 with two films representing different decades, AIRPORT from 1970 on December 15, and the camp classic MOMMIE DEAREST from 1981 on December 28.
AIRPORT is the multiple Oscar-nominated box office smash that launched the disaster-movie craze of the 1970s, presented as a pandemic-delayed 50th anniversary event.
AIRPORT garnered 10 Academy Award nominations, including Best Picture. Broadway star Helen Hayes made a rare film appearance as a feisty stowaway and snatched the Oscar as the year's best supporting actress. Others in the all-star cast included multiple past and future Oscar winners: Burt Lancaster, "king of cool" Dean Martin, Jean Seberg, Jacqueline Bisset, George Kennedy, Maureen Stapleton, Van Heflin and many more.
Adapted from the best-selling novel by Arthur Hailey, this star-studded melodrama updated a formula first exhibited in Grand Hotel from 1932; produced by Ross Hunter, written and directed by George Seaton, and featuring the final score and Oscar nomination of Golden Age composer Alfred Newman, one of the architects of the "Hollywood Sound." Newman won 9 Oscars and amassed a total of 45 nominations over four decades. Our guest is David Newman, an acclaimed film composer in his own right, who will discuss his father's contribution and remarkable career.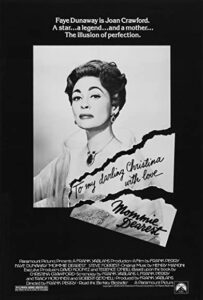 MOMMIE DEAREST is the notorious and unintentionally hilarious Razzie Award winner as the worst movie of its year (1981), the Joan Crawford biopic starring Faye Dunaway, based on the best-selling memoir of Crawford's adopted daughter, Christina. We present a 40th anniversary screening, four years after we introduced our first Camp Classic, Valley of the Dolls, on its 50th anniversary, so it's time to do it again!
Christina accounted the physical and mental cruelty dished out to her and her brother  by Crawford over the years, and exposed the realities of domestic abuse, even among Hollywood royalty. Some of Crawford's defenders disputed this lurid tale, but the damage was done. The film version, produced by Frank Yablans, directed by Frank Perry, and adapted for the screen by Perry, Yablans, Tracy Hotcher, and Robert Getchell, goes full blast on Christina's side, and the unintended results are on full display in the now infamous film. Mara Hobel plays Christina as a child, with prior Oscar nominee Diana Scarwid taking over the role as a teenager and adult.
Most critics pounced on the film, and early audiences reacted to the more baroque scenes with derisive laughter ("No wire hangers, ever!). Dunaway underwent a remarkable transformation to embody the movie queen, and her extravagant performance won some reviewers over, but the film was swiftly consigned to the Camp vaults. As the usually generous Kevin Thomas wrote in the Los Angeles Times, MOMMIE DEAREST "plays like a limp parody of a bad Joan Crawford movie."
AIRPORT plays one night only December 15 at 7:00 PM. MOMMIE DEAREST plays one night only December 28 at 7:00 PM. Both screen at Laemmle's Royal Theatre in West Los Angeles.
Tickets and information at http://www.laemmle.com/ac